Lab4 by Cultech currently manufactures three proprietary custom blends of probiotics known as Lab4, Lab4B and Lab4P
Each of these blends contains Lactobacillus and Bifidobacterium probiotic strains that have been identified and rigorously screened for their viability, survivability and storage requirements. They have also been studied to identify their, attachment capabilities, antimicrobial properties, susceptibility to different antibiotics and their ability to survive and grow in various environments.
Since their inception, the selected strains included in the Lab4 concentrates have been subject to a continuous programme of research (in vitro, in vivo, ex vivo and clinical) and have been used and reviewed by many thousands of customers using hundreds of different products sold all over the world.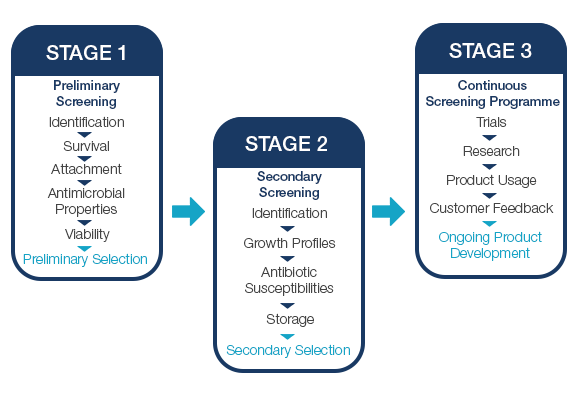 The Lab4 consortium contains four strains of lactic acid bacteria and bifidobacteria isolated from human gut microbiota – two strains of Lactobacillus acidophilus, Bifidobacterium animalis subsp. lactis and Bifidobacterium bifidum.
Lab4 is our original probiotics consortium, which was formulated in 1998. The Lab4 consortia was subject to its first clinical trial in 1999, looking at the effects of Lab4 supplementation on the incidence of Clostridium difficile diarrhoea. We have since published more than 15 clinical trials and a number of other studies on this blend, which can be found here.
The Lab4B consortium also combines four strains of lactic acid bacteria and bifidobacteria that have been specifically designated to reflect the gut of newborn babies and infants. This combination contains the same Bifidobacterium animalis subsp. lactis and Bifidobacterium bifidum as the Lab4 consortium with Lactobacillus salivarius and Lactobacillus paracasei.
The Lab4B blend was first identified in 2004, following which it was studied for evidence of safety in pregnancy and newborns and for its impact on eczema and atopic allergy in babies and children. Further information on the Lab4B research and published papers can be found here.
Our Lab4P probiotic concentrate is the latest addition to our portfolio. It comprises five probiotics strains – our four Lab4 strains with our own strain of Lactobacillus plantarum – and has been developed based upon extensive research to identify potential.
We first identified our CUL66 strain of Lactobacillus plantarum nearly ten years ago and have since undertaken extensive research on this strain, both independently and in conjunction with the Lab4 blend. This research has culminated in two key clinical trials published in 2020 and 2021, which show the broad range of benefits of the Lab4P probiotics consortium for both weight loss and metabolic health specifically and for general health. Further information on the Lab4P research and published papers can be found here.
We are also able to offer the strains used in the Lab4 blends as individual strains or in a combination to suit your specific product requirements – in potencies, doses and formats to fit your specific requirements.
Please contact us for further information or to discuss your product requirements, including potencies, potential formulations, batch sizes and price.